In CareerPlug's fourth annual Recruiting Metrics Report, we continue to analyze our hiring data to shed light on hiring metrics and trends for small businesses across various industries. Our team analyzed hiring activity in 2022 from more than 16,000 employers — covering more than 7.1 million job applications.
In this report, you will find analysis of data covering the hiring funnel from initial job posting through hire, organized by industry.
This report will establish industry-level benchmarks for key hiring metrics, including:
Average job posting click and application rates
Conversion rates from click to application, from application to interview, and from interview to hire
The number of applicants employers received per hire
The average time it takes to contact applicants — and how long it typically takes to contact a hire
The top sources for applicants and hires
The best and worst months throughout the year to hire
Take an in-depth look at the results of our study by downloading the free 2023 Recruiting Metrics Report.
2023 Recruiting Metrics: Benchmark Data by Industry
See how your company's hiring and recruiting stats compare to others in your industry and learn tips for what you can do to make the right hires.
DOWNLOAD THE REPORT
The Job Market of 2022
You can look at the past three pandemic years as a "trilogy" of sorts when it comes to the job market. 2020 saw sudden and catastrophic job losses at the outset of COVID-19 and a staggering unemployment rate that reached as high as 15%.
2021 told a different story. After the COVID-19 vaccines were launched in early 2021, employers quickly ramped up their hiring efforts in order to meet the demands of an American public eager to return to normal. But with the huge sudden increase in demand for labor, employers then found themselves with widespread applicant shortages, which led to a challenging year for hiring.
We now have the full story of 2022 – a year that represents a return to normal, but also brings new uncertainties that will spill over into 2023.
First, the return to normal: the U.S. job market added 4.5 million jobs in 2022, more than making up for the jobs lost during the pandemic and exceeding 2019 pre-pandemic levels of employment.
While these job gains are promising signs for a growing workforce, a number of high-profile tech companies have announced substantial layoffs in early 2023, leading to some uncertainty. Plus, with concerns about inflation and rising interest rates, businesses may be bracing for a possible recession.
Our clients in particular – small businesses in sectors like restaurants, fitness, home services, etc. – have found their recruiting efforts challenged by competition from big box and online retailers, gig economy jobs, logistics and delivery jobs, and remote work. Now all of these employers are competing for the same pool of applicants.
So while 2022 brought us back to pre-pandemic employment numbers, it was also another year that showed us that when it comes to the job market of the 2020s, the only constant is change. The businesses that will continue to grow despite the economic uncertainty will be those that can hire and retain the right people.
Key recruiting metrics
In analyzing the data, we found that the following metrics revealed the most significant takeaways.
View-to-applicant ratio
With the influx of new jobs created, applicants had plenty of options to choose from. This means that in 2022, the view-to-applicant conversion rate averaged just 3% across all industries. This is another indicator that while these job seekers are seeing more job postings, they aren't necessarily applying to more.
Applicant-to-interview ratio
The applicant-to-interview ratio in 2022 was 3%. This means that for every 100 applicants a job posting received, 3 of those applicants were invited to interview for the role. This is a lower number than employers would like to see, and often times can be a sign of unqualified candidates or interview ghosting plaguing the hiring process.
Here's how the applicant-to-interview ratios rank by industry:
It's also worth noting that in late 2022, CareerPlug launched our new automated interview scheduling feature, Autopilot. Employers using Autopilot were able to convert applicants to interviews at a rate of up to 8 times higher than applicants contacted manually. This is a promising early indicator that automated interview scheduling will lead to increased interview conversion rates for our clients in 2023.
Interview-to-hire ratio
The interview-to-hire ratio in 2022 was 48%. This means that nearly half of all candidates interviewed ended up being hired for the role. When you consider that just 3% of applicants were invited to interview in the first place, having an interview-to-hire conversion rate of 48% means that employers are far more efficient later in the hiring process.
Here's how the interview-to-hire ratios rank by industry: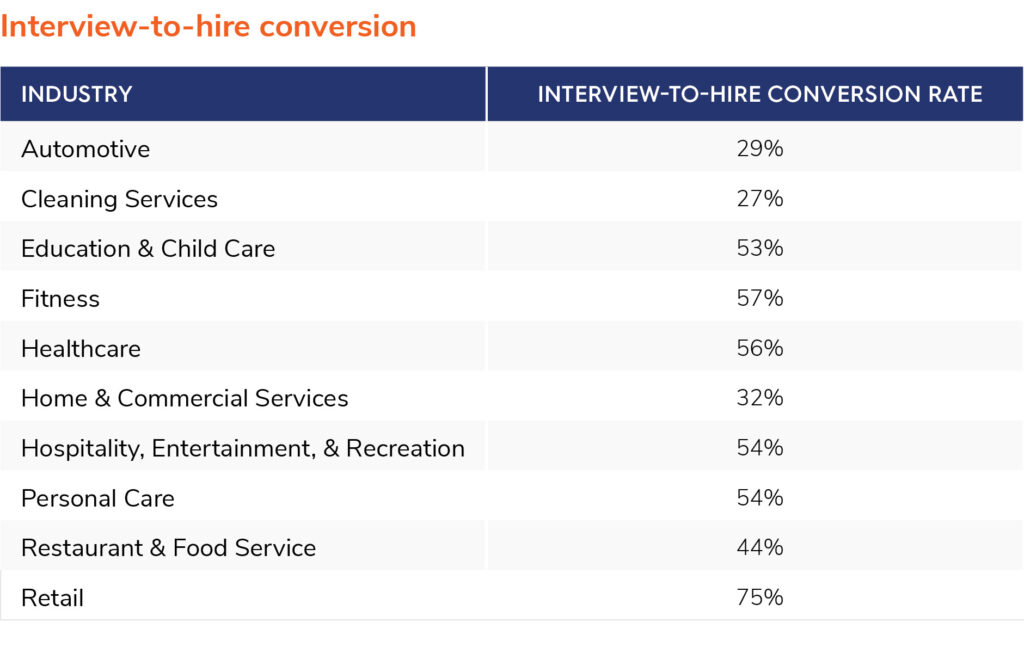 Applicant-to-hire ratio
The applicant-to-hire ratio in 2022 was 85 to 1, meaning that employers received an average of 85 applicants for every hire they made. However, this figure varied widely across industries, with employers in the top performing industry (cleaning services) seeing 154 applicants per hire and employers in the lowest performing industry (education & child care) seeing 41 applicants per hire.
What are the best times of year to post jobs?
2022 saw a slow start to applicant activity in the beginning of the year with March bringing the lowest applicants per job posting (32 applicants per job). Applicant volume picked up as the year progressed, with December bringing in the most applicants (72 applicants per job). Overall, the second half of 2022 was much more favorable for employers than the first half.
What are the best places to post jobs?
Job boards are the most common source for applicants, producing an average of 60% of applications across all industries in our analysis. If absolute volume is your goal, posting your job to job boards is your best bet. But despite being the source of most applicants, job boards do not produce hires at nearly the same rate as other sources.
Job boards produce quantity, but not always quality
The reasons for these stark differences in applicant-to-hire ratios based on source may vary, but our experience shows us that applicants who apply from job boards are more likely to be sending out dozens applications in short order, with less consideration for their qualifications for the role or their interest in the specific job.
An applicant who takes the time to research a role and apply directly through a company careers page is more likely to have spent time considering their own fit for the role and the company, and an applicant who is referred to a job by an employee is much more likely to be familiar and engaged with your employer brand. And while custom sources vary among industries, employers that use them consistently find high-quality candidates they may not have found on the major job boards.
How to Improve Your Hiring in 2023
2022 was a rollercoaster year for recruiting, but we've gained insights into what steps businesses can take now to hire top talent regardless of the state of the job market.
1. Build your employer brand and showcase it on your careers page.
Company careers pages are a hugely successful source of hires, but an underutilized source of applicants overall. Candidates who take the time to research a company tend to be high-quality candidates who are more selective about where they choose to apply. Invest in creating an engaging and attractive careers page that showcases employee testimonials, aspects of your company culture, and your core values.
2. Create a job marketing strategy that doesn't rely on job boards.
Compile a list of custom sources like industry-specific job boards, community message boards, local and university job boards, and email campaigns to customers. Compile another list of employees, friends, and colleagues in your personal network to reach out for referrals. Our data shows these sources produce the highest-quality candidates, yet the lowest percentage of applicants. Plan on targeting them before your next round of hiring.
3. Communicate with candidates faster.
Our data shows that over the last 3 years, small businesses have been speeding up their hiring processes as competition in the labor market increases. In 2023, you'll want to move fast before your competition scoops up quality candidates. Try text recruiting to communicate with candidates faster. Text messages receive an 8 times higher response rate than email, along with a much faster response time. An applicant tracking system like CareerPlug can also help you quickly evaluate candidates using a proven hiring process, allowing you to accelerate your hiring decisions without sacrificing quality.
4. Use hiring software with automations to reduce candidate ghosting.
One major pain point that employers reported in 2022 was an increase in candidate ghosting – when candidates stop responding to businesses after submitting an application and drop out of the hiring process without explanation. Candidate ghosting can lead to low applicant-to-interview conversion rates. Consider using automated interview scheduling software like CareerPlug to instantly engage high-quality candidates early in the hiring process, while also identifying unengaged applicants you shouldn't waste your time on.
Simplify Hiring with CareerPlug
Need to improve your own recruiting metrics? CareerPlug makes it easy. Our applicant tracking system comes with the tools you need to attract applicants, communicate, evaluate, and automate your hiring. Take a tour of our software to learn more!
GET A DEMO