As the Applicant Tracking System (ATS) partner for State Farm, CareerPlug serves thousands of State Farm Agents in their hiring journeys every year. We spoke with one Agent who has developed a hiring process that has seen significant success — resulting in an above-average applicant flow that caught the attention of his colleagues at State Farm.
In mid-March, news of COVID-19 quickly changed the landscape of the job market. Record unemployment claims were filed and hiring freezes were being felt in many industries.
But between March 24 and April 14 — a time when most other businesses were reeling from these sudden unexpected shifts — State Farm insurance agent Isaias Ruiz saw 61 new applicants for the two open positions he had posted on his careers page.
Ruiz has been operating his State Farm Agency in Bakersfield, California, since January 2019. Before beginning his career in insurance, he worked for a digital marketing and advertising firm. It turns out, the skills he learned there would give him an edge in the insurance business.
"I knew that it was all about making sure that you have relevant content and making sure it's fresh and always up to date. I keep my social media marketing up to date."
Ruiz found that he excelled in small business recruitment marketing — marketing efforts focused on generating applicants — while many others in the insurance industry struggle to fill their applicant pipeline with qualified candidates.
Now he's sharing his advice with others so they can see improvements in their own results. Here are his top three keys to recruiting success.
1. Share the job posting link with everyone in your network.
Ruiz started developing his process by using CareerPlug to set up a personalized careers page to host his job postings. Each job posting he created generated a custom link. Rather than relying on the job boards to bring him the majority of his applicants, he began sharing his custom links instead.
"If someone I knew said, 'Hey I want to apply for the job. Can we sit down for an interview?' I would send them the link and say 'fill this out first.' Even if it was a good friend of mine looking for a job!" Ruiz says.
If he met a potential applicant at a marketing event or networking mixer, he would do the same. This approach also keeps applicants engaged in the process more so than if they were simply sending resumes that would pile up in Ruiz's inbox.
According to Ruiz: "I would say, 'Give me your email or your phone number. I'm going to send you the link. And then just make sure you apply through the link first.' It makes it a little bit more official than just sending me your resume. You have to answer the questions and complete the assessments. Plus it was an easy way for me to track my candidates and see what stage they were at."
In addition to streamlining his application process, he says there's also a strategic benefit to directing all applicants to his careers page: he has noticed that it helps his job postings rank higher on search engine results. He says, "Once I figured that out, I'm like: Okay, this is the way I'm going to start doing it moving forward."
2. Make sure the content on your job posting is fresh, updated, and relevant.
Ruiz says it's important to constantly refresh the content on your job postings. You shouldn't be afraid to make changes to a job posting if it's not generating the number of applicants you'd like to see.
He's experimented with changing the job titles to attract applicants — for example, if Account Representative wasn't working, he would change the title to Account Executive. "Make sure your content is fresh, updated, and relevant," he advises.
In addition to refreshing his job titles, he'll also add line items to job descriptions. "Just little things," he says. "I wouldn't go back in and re-do a whole job posting."
Ruiz believes that constantly iterating on a job posting makes it easier to see what resonates most with job seekers. Don't let your content become stale. If something is not working on your job posting — change it. Eventually, you'll find a winning formula. The same is true for the content on your company careers page.
To read more about how to write compelling job descriptions, check out this guide from our Ask a Hiring Expert series.
3. Always keep a pipeline of applicants.
CareerPlug has always had the mantra always be hiring — in fact, it's one of the best practices we've developed as part of our Opinionated Approach to hiring. It turns out this philosophy is really working out for Isaias Ruiz.
"I know as an Agent, you have a million things to do, and a million things to worry about, but without a constant funnel of team member prospects, you're kind of spinning the wheel. You have to make sure that you're always keeping that funnel filled even when you're not hiring," Ruiz says.
"Even if you think 'my team is solid,' or 'I can't afford to hire anybody right now' — you never know. In my first three months, I lost over 50% of my team and I didn't think that was going to happen."
Ruiz says these days, he keeps an internship posting on his careers page at all times. He finds that it attracts a lot of hungry business professionals eager to break into the industry.
TLDR
To recap, here's Isaias Ruiz's advice for insurance agents: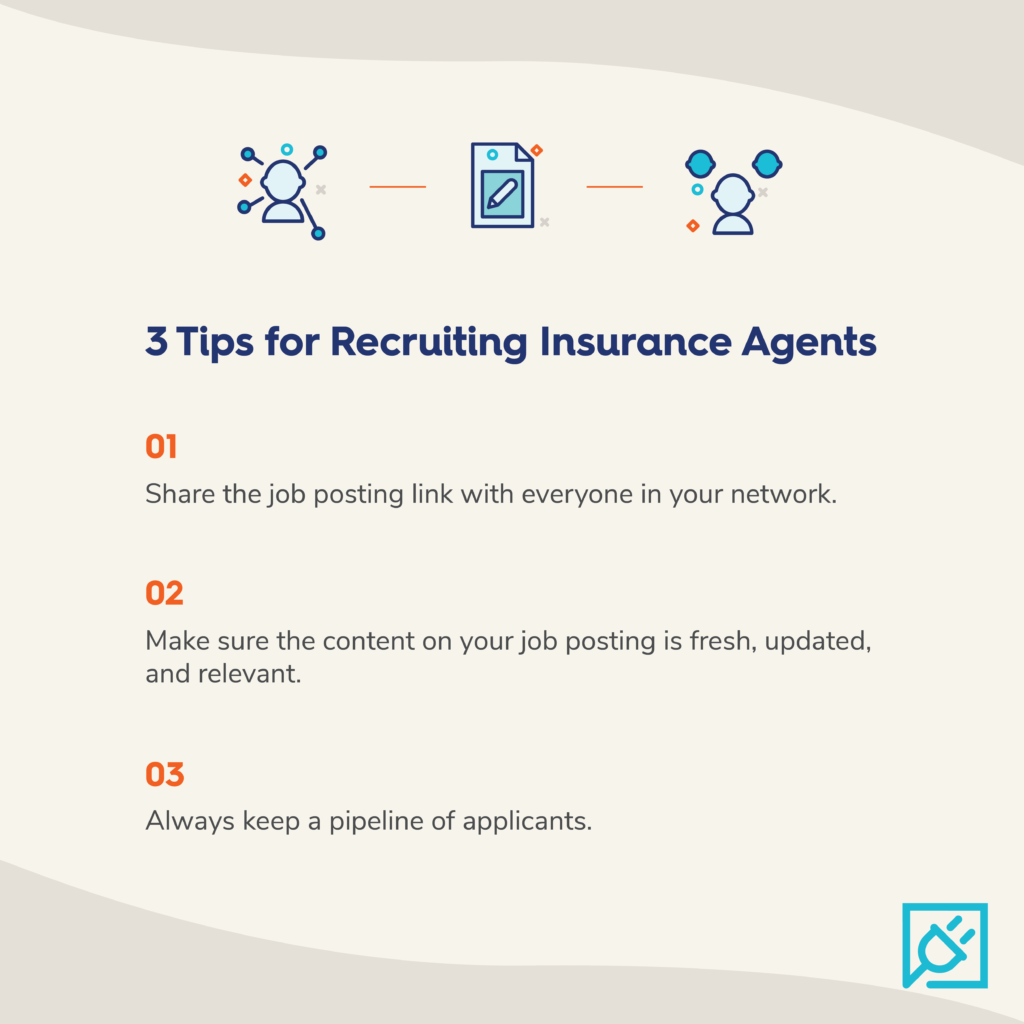 To get started on improving your own hiring process with an applicant tracking system, request a free demo from CareerPlug today.